Past Efforts
Deployment for the Elf on the Shelf
Operation Appreciation sent a couple of fun holiday filled care packages to our men/women in Afghanistan. One of the items included their own "Elf On The Shelf". We can't wait to see what she gets into during their deployment.

All of the kids received their own holiday care packages too! Lots of toys were delivered from Operation Appreciation to each and every little one!

Interested in sending a care package, making a donation, writing a letter or helping in another way? Please reach out to us!
---
Please help us support a Soldier in Need!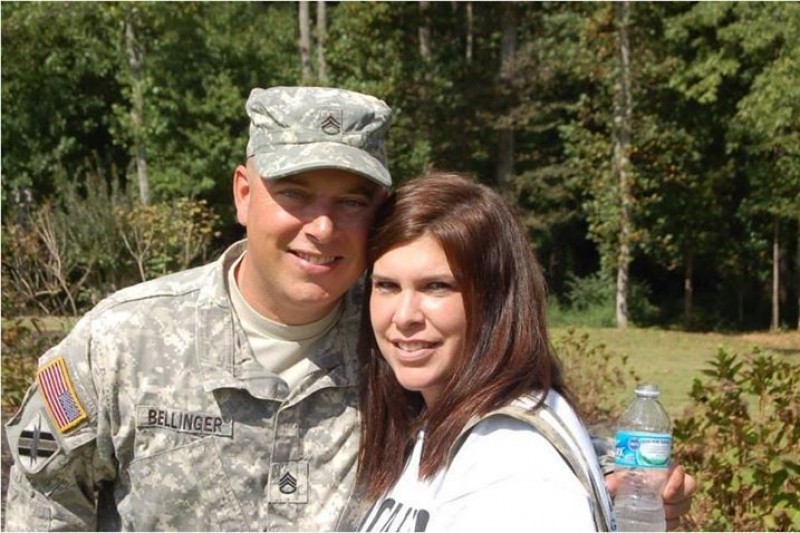 On Wednesday June 10, 2015, SSG Tim Bellinger unexpectedly lost his beloved wife of 19 years, Annie Bellinger, to a sudden illness. SSG Bellinger and his family (which include the couple's 4 children) have tirelessly served in the GA National Guard since 2001 and I have never met a more patriotic and committed family. SSG Bellinger served overseas in both 2004 and 2009 and his wife Annie was an integral and active member of the Family Readiness Group.
Despite an extremely traumatic combat experience, SSG Bellinger has continued to serve with honor and dignity and Annie has proven on numerous occasions to be an incredibly strong and resilient Military Wife and mother. She has also given so much of herself over the years to supporting other GANG Service Members and their families and fearlessly advocates on behalf of fellow spouses and military children. SSG Bellinger and his family reside in Cumming, GA and he is currently assigned to the 560th BFSB HHD.
Both SSG Bellinger and his wife were working at the time of her passing but their income was only sufficient to meet their financial obligations, maintain their household and raise their beloved children. Sadly, SSG Bellinger was not enrolled in SGLI and therefore, has no funds available to assist with funeral arrangements.
We are seeking to provide support and assistance to the Bellinger family so that the funeral and burial costs at the GA National Cemetery do not result in an additional financial, and emotional, burden to this family.
Your donation is tax deductible through Operation Appreciation. You can donate online via Paypal or at GoFundMe.
---
< hr />
Prayer Requests
Our president, Beth Waters went through the process of being a Living Kidney Donor. Please pray for her while she goes through this process. Beth is such an inspiration to us all here at Operation Appreciation and we need her to have all the support we can get!
---
The Day-By-Day Breast Cancer Experience
Our president of Operation Appreciation, Beth, is also the Military Liaison Officer for Cobb County Department of Public Safety. Beth has a co-worker that was diagnosed with breast cancer and recently had a mastectomy. A GoFundMe page was created giving her the opportunity to raise funds and blog about her breast cancer experience (and hopefully encourage somebody else to be tested ... and save another life).
Please help Suzanne by donating on her GoFundMe page!
---
In Memory of Linda Ayers
CW4 James and his wife Michelle Bullock lost her mom, Linda Ayers, over the weekend. James is currently serving his country in Afghanistan on a one year deployment.The Red Cross is bringing him home on 15 days emergency leave and then he will return to Afghanistan to complete the mission.

Linda (age 69) spent her life giving back, serving others, helping anyone less fortunate than herself. She was a mother, grandmother, daughter, sibling, friend, singer and missionary.

God called Linda home on Saturday, May 3, 2014 at 7:10pm. When I close my eyes I can picture her homecoming! What a glorious site indeed. We know that Linda is not suffering anymore and is now singing in heaven.

Linda did not have any life insurance and as the family is preparing to say "good bye" the funeral expenses are adding up quickly. PLEASE help by making a tax deductible donation. You can donate through Operation Appreciation or through our GoFundMe page.

Our thoughts and prayers are with the family....
---
Thank you for helping us support the 321st MI BN!
With your donations, we were able to send care packages to support the 321st.
---
Operation Appreciation participated in the big Stars & Stripes Festival & Bar-B-Que Cookoff on June 20th & 21st, 2014.
---
78th Aviation Homecoming
Operation Appreciation has been contacted about the homecoming coordination of the 78th Aviation. They are a small deployment (9 soldiers strong) with no acting Family Readiness Group (and therefore no funding). The GA NG Family Readiness Support is asking for community support!
Thank you to our fantastic sponsors!

Boots to Loafers sponsored the homecoming of the 78th!

K Mike Whittle donated the yellow ribbons!

Home Depot donated the American flags!
---
"Never Let Them Walk Alone" - The Annual Fallen Heroes Service
Thursday, May 22, 2014 at 7:30 PM
Historic Square Downtown Marietta
In recognition of Law Enforcement Week, the Kermit C. Sanders Lodge 13 of the Fraternal Order of Police will honor Cobb County's fallen heroes.
The "Never Let Them Walk Alone" annual service was held on the Historic Square in downtown Marietta.
---
Big Shanty Festival 2014
Downtown Kennesaw hosted the annual Big Shanty Festival on April 12 and 13, 2014. The festival combines the best of the rich heritage of Kennesaw and the Civil War era with today's fun filled activities. Over 70,000 attendees will enjoy the more than 250 booths with arts & crafts, food vendors, merchants, and live entertainment.
We were part of The Kennesaw Police Department booth to sell raffle tickets for the Ed Voyles CDJR Jeep Give-A-Way.
---
Operation Appreciation has received a request to assist this soldier.
Please consider a tax deductible donation that will help this young mother with her tragic loss financially so that she may focus on her physical healing, loss of her precious daughter Amaya and long road to recovery with her son Nicholaus!
As many of you know, and to those of you that may not know, Tashawn Smith, a loving daughter, caring friend, an active Army Reserve, and devoted mother of Amaya Smith and Nicholaus Epps, was in a tragic car accident on Friday, March 7, 2014 in San Antonio, Texas.
The accident has led to the death of Tashawn's 6 year old daughter Amaya and has left her 4 year old son Nicholaus in a coma with very little brain activity, and Tashawn with a broken leg, along with numerous cuts, and bruises.
This tragedy has left the entire family devastated. I am writing on behalf of Tashawn to ask for monetary donations which will be used to pay for funeral, medical, and any other needed expenses.
I am reaching out, asking anyone willing to donate to assist this family with this heavy burden, please do what you can. Any donation will help and be much appreciated. Your support will ensure that despite the fact only God can heal the emotional burden of this accident, at least it will lift any financial burdens.
Learn more about the accident ksat.com >
UPDATE:
I regret to inform you all that lil Nicholaus has gone to be with his big sister Amaya in Heaven. Please continue to pray for TaShawn and her family during this difficult time. Thanks for all of your continued prayers and support!

Here is the link for the updated news report:
http://m.ksat.com/news/severely-injured-boy-in-loop-410-crash-dies/24982840
---
Miles For Miracles
Benefitted Justin Perkins and Taylor LeCroy
---
Hope For Hannah / Remembering Hannah
Benefitted: Mark and Hannah Rinehart
---
A Soldier in Need
Benefitted: CW2 James Dutton - Soldier in the 321st MI BN (Red Cross Issued Family Emergency)
---
The Perkins Family
Benefitted: Coordinated a New Roof (by Southland Homes)
---
810th Soldier Memorial at Augusta Armory
---

Multiple Unit Deployment Support
Benefitted: Kosovo, Iraq, Afghanistan, In Country and Stateside
Soldier/Unit/Family
---
Community Volunteer
Multiple Silent Auctions and Raffles, Training Seminars
---
Ed Voyles Chrysler Dodge Jeep Ram Great Jeep Give-A-Way
Benefitted: Soldiers and Their Families
Locations: N. Ga. State Fair, Fallen Heroes of Georgia, Cobb County Rodeo, Movies 278 in Hiram, East. Paulding High School, Pineapple Park Grand Opening, Annual Ride For The Troops 9/11 - Cycle World of Athens and more
---
221st Annual Holiday Parties
Benefitted: Soldiers and Their Families
---
Networking Meetings
North Paulding Networking, BNI Crossroads,
221st Challenge Coins - Alpha Co and Charlie Co (Custom Coins)
---
LifeSouth Blood Drive and American Red Cross
Benefitted: Blood Donations
---
Marine Toys For Tots
Participant and Volunteer
---
Youth Challenge Academy/Ft. Stewart
Facility Tour and Cadet Mentor
---
Military Liaison Officer
Cobb County Department of Public Safety
---
Operation Homefront
Annual Dollar Tree Toy Drive, Troop Support/Auction Items, Annual Wrapping Paper Distribution